Our Covering
Bishop Flynn A. & Lady Carolyn Johnson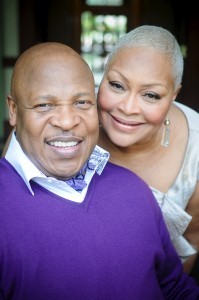 BISHOP FLYNN JOHNSON
Flynn Johnson with his wife, Carolyn, founded Atlanta Metropolitan Cathedral (Metro) in 1979, which has now advanced into a revolutionary G12 church. Flynn's vision is to build strong communities, leaders and families by winning souls and making disciples.
Flynn, who holds a Master of Ministry and Leadership, is a part of the USA G12 team of Mission Charismatic International. In addition to leading Metro, Flynn chairs Metropolitan Ministries Inc. (marriage counseling and pastoral leadership) and Metropolitan Community Development.
His greatest desire is to "raise Godly generations" and "leave a legacy of loving leadership." Flynn is an internationally recognized speaker, author, husband of 42 years, father to three children and grandfather to four grandchildren.
LADY CAROLYN JOHNSON
Carolyn Johnson alongside her husband, Flynn, stands at the forefront of the G12 movement in the United States. They founded Atlanta Metropolitan Cathedral in 1979, which is rapidly flourishing into a revolutionary church.
Affectionately known as "Lady Carolyn" to Metro members, she is the Chief Financial Officer of Metro and Metropolitan Ministries, Inc. (MMI). Her desire to see women develop to their fullest potential has led her to become a professional role model and life coach. She is also certified coach for blended families.
Carolyn has impacted countless women and church leaders worldwide with her gifts of teaching, prophetic insight and song. Her voice has been and continues to be heard around the world. She is a shining testament to the fact that women can indeed take a leadership role in ministry. Her concern for human relationships led her to earn a Bachelor of Arts in Human Behavior. However, of these accomplishments, those that she values most are her 42 years of marriage, her three children and four grandchildren.