Our Leaders

Dr. Michael D. McClure, Sr. ABS, BCE
God is a merciful God and faithful to administer His character towards His people. Such is the position of the heavens when it comes to our Pastor, Michael D. McClure, Sr. Born and raised in an environment of struggle, this prophet of God overcame the perils of the inner city to rise up among his own people and show them, by example, a more excellent way. Called by God with a fire in his mouth and insight for excellence, Pastor Michael McClure has emerged as one of the leading visionaries in the greater Birmingham area. Pastor McClure has proven over the years that an excellent God responds to an excellent spirit in His people. His passion is to unashamedly and unapologetically fulfill the will and mandate of God on his life, being a transparent and contemporary mentor for a people of destiny. To this end, Pastor McClure has embedded in the culture of Revelation Church Ministries a hunger for not only holiness, but wholeness, relevance and sobriety in terms of how the kingdom of God distributes divine intervention in the earth. He believes that, because our God is a covenant God, we, His people have no recourse but to become a vibrant, covenant keeping people. Pastor McClure is anointed and gifted by God to articulate and unfold the rhema word of God in a dramatic, uncompromising way that is easily grasped and applied to everyday life. His revelatory insight into kingdom authority continues to bring clarity and enlightenment to the Body of Christ. Likewise, his provocative approach to functional Christianity has garnered support and respect from a great consortium of business and civic leaders. A strong family man, Pastor McClure is under girded by his wife, Angela Woods-McClure and their children: Pastor Mike Jr.(JaQuetta), Pastor Darius(Brittney) and Angelique. Grandchildren: Xander, Michael III, Mason, Brittain, Brooklyn, Champion, Makinley, Chancellor, Myles, and Amori, which have been his greatest accomplishment of having his family support him in ministry.
First Lady Angela Woods-McClure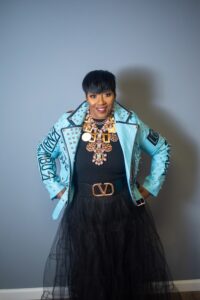 A prudent and virtuous woman who seeks to transit GOD'S will, First Lady Angela Woods-McClure is eagerly and enthusiastically executing her GOD given assignment by promoting Christian augmentation and development in the Body of Christ, especially in the lives of women. As for this reason, she is determined to walk unapologetically and unashamedly in procession with the Master who has given her keen prophetic gifts to knock down walls, loose strongholds, destroy barriers and overpower bondages throughout the city of Birmingham. Isaiah 61:1 says, "The Spirit of the Lord GOD is upon me; because the LORD hath anointed me to preach good tidings unto the meek; he hath sent me to bind up the brokenhearted, to proclaim liberty to the captives, and the opening of the prison to [them that are] bound." First Lady Angela McClure boldly testifies of GOD'S goodness and ministers to the wounded and brokenhearted while lifting shattered spirits and comforting crying souls. In spite of imperfections and injustices, she encourages all to rejoice in the grace, mercy, and glory of GOD. While passionately singing praises to GOD, she touches the hearts of those lost and perplexed and fill their spirit with hope and joy to become warriors armed with weapons of praise to defeat the enemy through her anointed vocals. Understanding her ministry first commences at home, she was born and raised into a family of preachers and teachers. Accordingly, she developed her own love and compassion for GOD and has been able to instill her wisdom and knowledge into the lives of her three children who faithfully serve with her and her husband in ministry: Pastor Mike Jr.(JaQuetta), Pastor Darius(Brittney), and Angelique. Grandchildren: Xander, Michael III, Mason, Brittain, Brooklyn, Champion, Makinley, Chancellor, Myles, and Amori. In addition, First Lady Angela Woods-McClure is led by Philanthropist and Senior Pastor, Michael D. McClure, Sr. GOD has given them both the heart and gifts to build families by being the leading examples. A supportive wife, First Lady McClure, along with GOD'S chosen vessel, Pastor McClure, together pilot Revelation Church Ministries to heights unimagined and continue to see the extraordinary favor poured upon their life and church family.